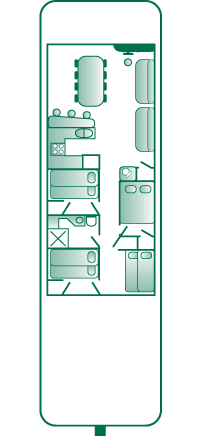 Features
4 Bedroom, 2 Bathroom
6 Double Beds & 4 Single Beds
Sleeps 8-12
Freezer on board, Live well for bait, Fish cleaning station, Swim platform & Water slide, electric start generator.

2009 - Rates per boat includes tax, insurance, propane, pump out, 16' boat


3 Nights $2,100.*U.S $2,520.*CND

4 Nights $2,900.*U.S

$3,400.*CND


7 Nights $3,500.* U.S.

$4,200.*CND

Avoid disapointment, reserve your vacation dates now ! call
1-800-201-2100

* we offer an advance full payment discount that will help save your group an additional 5% off the reg. houseboat rental rate. To receive this extra discount the entire houseboat fee for your rental must be paid in full within 6 days of your first booking your houseboat and prior to April 1st; of the year your houseboat is rented for!

u.s. based on 1.20% exchange rate.

$1000 U.S. Deposit

Gas Usage
Fuel is extra, but you are charged only the gas used. Gas usage on houseboat motors is about 20- 40 gallons per trip.

Taxes and Insurance
Included in houseboat rental prices with a $1,000. deductable.